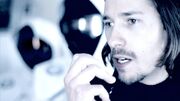 Lt. Turner is assigned to assist Captain Onoway, whose partner was recently killed. Lt. Turner is eager for the assignment, as it represents a significant advancement to his career, as well as an opportunity to study under Captain Onoway, who is regarded as one of the best in his area of expertise.
Ad blocker interference detected!
Wikia is a free-to-use site that makes money from advertising. We have a modified experience for viewers using ad blockers

Wikia is not accessible if you've made further modifications. Remove the custom ad blocker rule(s) and the page will load as expected.